How Much Do Bank Cleaning Services Cost?
Discover how Janitorial Service Bids can help you take care of your Bank. Get in touch today and request a quote!
In general, bank cleaning services will cost between $165-$435, or $0.07-$0.21 per square foot, with the actual cost being determined by the services required.
$0.07 and $0.21 per square foot for regular cleaning
$0.13 and $0.27 per square foot for deep cleaning
Get Connected
If you're looking for a bank cleaning service that offers great value and exceptional customer care, then it's important to find professionals who will work with your budget. This guide from Janitorial Service Bids explains how much office cleaning services cost, such as:
Bank cleaning cost per square foot
Financial institution cleaning rates per day, week, month
We at Janitorial Service Bids understand the importance of providing a high-level cleaning service for your financial institution. Our team goes above and beyond in order to ensure that we deliver personalized solutions tailored specifically around you, which will go far beyond what was expected!
Bank Cleaning Price Table
| | |
| --- | --- |
| Building Size – Square Feet | Cleaning Cost Low-High |
| 0–1,700 sq. ft | $165–$300 |
| 1,701–3,200 sq. ft | $222–$384 |
| 3,201–6,500 sq. ft | $389–$510 |
| 6,501–10,000 sq. ft | $487–$600 |
| 10,001–40,000 sq. ft | $592–$1,200 |
BEST BANK CLEANING SERVICE
Hiring cleaners for your bank can be a tricky process. You have to ensure that they are trustworthy and will give off an image of trustworthiness, while also being able clean securely so as not to damage any equipment or tamper with client information. As you might expect when it comes down to hiring outside contractors like this one in the past there were many things we looked at before choosing them: their security measures; how well-known (or established)they are within our industry.
Bank Cleaning Services are Affordable
Our janitorial partners are the best in their field when it comes to maintaining cleanliness and organization. They prioritize building trust with banks by ensuring that your image is always on point, no matter what kind of business you have going at any given time!
When you hire a commercial cleaning service, they will come to your bank and clean every inch. They'll take care of all the glass in front as well as behind it; wash down each flooring surface with soap water before wiping them off completely letting everything dry naturally so no one slips up on their own while walking around without any risk whatsoever. These cleaning professionals understand how important getting rid of these pesky germs are – especially when dealing with sick people coming through often during flu season or other times where being exposed isn't an option.
Our solution will connect you with up to three janitorial companies in your area to help you get the best, most affordable price without sacrificing quality.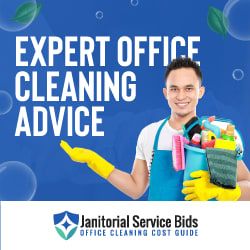 We know that your time is precious, which is why we strive to provide quality cleaning services at affordable rates. Our team of experienced professionals will show up on-time and work quickly until the job's complete without any hassle or difficulty for you.
Dusting
Disinfecting Service
Kitchen/Bathroom Cleaning
Mopping
Surface Wiping
Vacuuming
Window Cleaning
Trash Removal
The biggest priority for any financial facility is to ensure that its property and assets are secure. Bank cleaners should have protocols in place when it comes time to clean your bank, so make sure they do.
Effective business practices are essential to maintaining a good reputation. Bankers know that their clients rely on them for trust, which is why it's so important not only to maintain but also to improve the quality of service you provide with every interaction from new customers all the way to returning ones.
We know that your carpets, floors, and upholstery need to be deep cleaned periodically. Why? For one thing, they can become infected with bacteria which is bad for everyone in the building! And another thing- regular janitorial services won't reach all of those nooks & crannies so you might as well call us about our customized solution where we'll take care of everything including high traffic areas like lobbies or meeting rooms monthly/weekly depending on what's needed there at any given time again tailored specifically just for you.
Bank Cleaning Services – Done Right
Background Checks: With background checks, you can ensure that cleaning company employees are properly vetted to do their jobs. We also offer in-house policy compliance for any cleaner positions on staff with additional requirements beyond what's required by law or industry standards – this ensures nothing falls through the cracks.
Identification: We know how important it is for you to have peace of mind knowing that your site's security is being monitored. That's why cleaning team members typically wear uniforms and name tags, so there is no mistaking whose work they are doing.
If a bank has employees working, they will need to work with the cleaning service. But if there is no one on staff for this task then it makes sense that these duties should be outsourced so as not to take away time from other important tasks such as financial transactions and customer service.
Keeping your facility safe and secure while we clean is a priority for everyone. When you hire a cleaning service, the team will generally lock all doors after they complete their tasks in the building – especially if it's an office or headquarters location.
Cleaner Banks, Safer Environments
Investing in regular cleaning can help to attract and maintain a quality employee base! Your clients should be one of many considerations when making this decision, as well. You might think that your bank is the only place you can clean without worrying about germs or bacteria – but even if it's just public areas, there are cleaners for those who need them. The professionals at the bank cleaning company will sanitize everything from doors and light switches all way down to countertops. They'll also use special solutions designed especially with kitchens and bathrooms in mind so no one ever has an outbreak while they're visiting friends over dinner.
Other services include:
Dusting
Maintaining water fountains
Replacing light bulbs
Washing windows
How Much Does Bank Cleaning Cost per Day?
Some businesses only require one-time cleaning. For a one-time building cleaning service, you can expect to pay anywhere between $165 to $600.
0–1000 square feet: $165
1000–2000 square feet: $170
3000–4000 square feet: $258
5000–6000 square feet: $300
7000-8000 square feet: $426
9000–10000 square feet: $600+
Prices vary depending on the services needed, how many employees are required, and how dirty the space is.
Commercial bank cleaners handle a wide variety of daily cleaning tasks your building needs to function its best every day. They help keep it clean and inviting for customers, so you can focus on making sales instead.
Teller area sanitization
Disinfection of equipment, furniture, fixtures, etc.
Floor vacuuming, sweeping, mopping, and polishing
Upholstery care
Bathroom sanitization
Break room and kitchen cleaning
Trash removal
ATM area cleaning
Our partners also clean glass doors and windows to let in more light and improve the atmosphere of your bank visitors. They also sanitize furniture so that commonly-occupied spaces stay as clean as possible.
Discover the savings for yourself. Request your free quotes today!