How Much Does It Cost to Clean a 2000 Square-Foot Office?
Use this resourceful tool to calculate how much it costs to clean a 2000 square-foot office.
The average American will spend more than 90,000 hours in the workplace during their life. Considering that you spend a substantial amount of time at the office, it makes sense to keep that space clean and orderly.
Having a cluttered or messy office can have a negative impact on your employees' mental health. Moreover, it can decrease productivity and lower employee morale.
2000 Sq Ft Office Cleaning Cost
| | |
| --- | --- |
| National Average Cost | $241 |
| High Cost | $383+ |
| Low Cost | $195 |
Keep in mind the negative impression it gives to customers when your office is dirty and disorderly.
For all these reasons and more, it makes sense to have regular cleanings scheduled for your office. How much does it cost to clean a 2000 square foot office space, though? Let's dive in and take a look at everything you need to know.
How Much Does It Cost to Clean a 2000 Square Foot Office?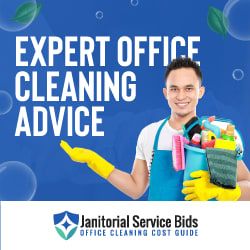 The cost of cleaning commercial space will vary depending on the size. If you have an office that's 2000 square feet or less, then your per-square-foot price is going to be higher than for larger spaces and this may affect what kind of business can thrive in such small quarters. In general, expect to spend around $241 to clean a 2000 square-foot office.
Commercial Cleaning Rates Per Square Foot
The cost to clean an office varies depending on its square footage. A 2000 square foot space will run anywhere between $195 and $383, while larger spaces pay less per foot due in part to their sheer volume which makes them easier for professionals with high-powered machines or fewer employees working during peak hours can handle everything alone without much difficulty at all!
Commercial Cleaning Rates By Hour
The cost of office cleaning depends on the professional you hire. They might charge by the hour rather than feet but, for larger commercial spaces and most residential ones alike-it's almost always per square foot instead.
By some estimates, on average, hourly rates for cleaning an office can range from $50 to $80 per hour. It's worth noting that the rates on the lower end of this range might be charged per cleaner on the job while the higher hourly rates might be for a full team.
Calculate the Cost by Cleaning Type
| | |
| --- | --- |
| Service | Cleaning Cost |
| Tile & Concrete Scrubbing | $0.12–$0.26 per sq. ft |
| Floor Vacuuming | $0.07–$0.18 per sq. ft |
| Bathroom Cleaning | $0.50–$2.06 per sq. ft |
| Carpet Shampooing & Extraction | $0.08–$0.20 per sq. ft |
| Window Cleaning | $4.00–$8.10 per window |
Another set of data incorporates the cost of an entire team per hour for a 2,000 square foot office. On the high end, cleaning an office space that is 2,000 square feet or fewer costs between $383 and $410 an hour.
You might consider hiring a commercial cleaning service on a contract basis rather than hiring them on a one-off basis. This way, you can lock in lower rates in exchange for offering them a regular cleaning gig. This is one of the most common methods for office managers and owners to use, as they typically require cleaning at consistent intervals.
Commercial Cleaning Contract Rates
Hiring office cleaners on a contract basis is typically more cost-effective than hiring them for one-time cleanings. This has to do with the frequency of service as well as size considerations, but it's important that you understand what type and length your lease will be before committing.
The use of the facility can also influence the contract rates. For example, a building that only contains offices will likely need less cleaning than an office that is connected to a manufacturing plant. The former would therefore likely have a cheaper contract than the latter.
What's Included in 2,000 Sq. Ft. Office Cleaning Prices?
Different professional office cleaners will offer different bundles of services. In general, though, a number of services are typically included in the quoted price. These include:
Cleaning public areas
Cleaning bathrooms
Dusting
Cleaning floors
Trash
If you need to get your home spic and span for the summer, there are a number of services that will help. Many cleaning companies offer additional packages with things like appliance cleaning or even just general housekeeping; however not all these extra features can be found in one package so it's important to know what they entail before buying.
There are some other cleaning services that you will have to look to an outside team for. For example, washing high-rise windows or pressure washing will likely require hiring a separate company.
Factors That Can Influence the Cost of Commercial Cleaning Services
Unlike house cleaning services, office cleaning has a lot more involved. Like most services, the cost of hiring a commercial cleaner can be impacted by your location. Additionally, though, the number of bathrooms and the number of windows in the office can have an influence on the price as well.
The cost of professional cleaning services will vary depending on the number and type (size)of bathrooms or windows in your place. A higher than average count means that you should receive a more expensive quote from these professionals!
If you're seeking a quote from a cleaning service, it's important that they know exactly what work needs to be done and how often. For example, if you wanted your floor mopped every other week then make sure to tell them this when giving the OK.
Are You Looking for the Best Rates for Commercial Cleaning Services?
Now that you have a sense of how much it costs to clean a 2000 square foot office, it's time to start looking for your preferred cleaning service.
It's always difficult to find time for everything, but it is even more challenging when you're looking at getting quotes on professional office cleaning services. The good news? There are ways around this! One of them is that if someone has already done some research and obtained rates from different companies in your area then they can give their input into which service would best suit both parties involved – saving hours upon endless hours spent waiting online trying to find the best office cleaning companies with a great price for the services offered.
That's where we come in. At Janitorial Service Bids, we compare quotes from local cleaning companies so you don't have to. If it's time for you to get the best rate on commercial cleaning services, be sure to check out our site today!