How Much Does It Cost to Clean a 10,000 Square Foot Office?
Use this free tool to calculate how much it cost to clean a 10,000 square-foot office.
Workplace cleanliness is very important, and it's always wise to make sure it's within your budget. This is the cost to clean a 10,000 square-foot office.
Office clutter is one of the leading causes of stress and anxiety in employees. More than that, the lack of office cleanliness lowers work productivity. Because of these negative impacts, hiring cleaning services for your office is essential.
10,000 Sq Ft Office Cleaning Cost
| | |
| --- | --- |
| National Average Cost | $729 |
| High Cost | $1,326+ |
| Low Cost | $644 |
It should be understood that rates can vary drastically according to the type of services required at your office.
The Costs Of Commercial Office Cleaning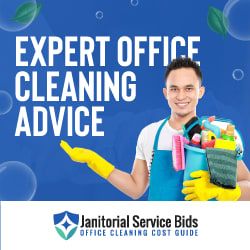 Be it cleaning a hospital or a small business, when cleaning 10000 square foot offices, space is a crucial factor in cleaning costs. Often, cleaning experts calculate their rates per square footage. Apart from that, other considerations add to the cleaning rates.
Some of these factors are the following.
Frequency
Type of cleaning
Cleaning supplies
On average, a cleaning service for a 10,000 sq ft office ranges from $49 to $106 per hour for each staff for a standard office space. This charge included costs like gas and car mileage and cleaning supplies. It also covers insurance like company liability and workers' compensation.
The national average also acts as the starting rate cleaning experts offer you. There are three cleaning rate options you can choose for your office space:
Flat Rates
Hourly Rates
Per Square Foot
One-time cleaning rates can vary depending on different factors. Some of these factors consider the hours and services.
Let's look at some of the individual cleaning services available and what you can expect to pay for each.
Calculate the Cost by Cleaning Type (10,000 Sq. Ft.)
| | |
| --- | --- |
| Service | Cleaning Cost |
| Tile & Concrete Scrubbing | $0.11–$0.24 per sq. ft |
| Floor Vacuuming | $0.07–$0.15 per sq. ft |
| Bathroom Cleaning | $0.50–$1.65 per sq. ft |
| Carpet Shampooing & Extraction | $0.09–$0.17 per sq. ft |
| Window Cleaning | $4.00–$6.10 per window |
Flat Rate Office Cleaning
Office cleaning for a Flat Rate or Hourly? The decision is difficult, but you have come to the right place. We offer quotes on both flat-rate pricing for small homes and hourly services based on your needs.
Charging a flat fee means you get paid no matter how fast or large the job is. For instance, if your services cost $300 per week and it only takes 4 hours for them to complete then that's exactly what they'll be charged – even though in other cases where people may have needed more time on their own accord because of things like family matters etc., those same jobs would end up costing much higher prices due directly from our misunderstanding about why some tasks require longer periods at times.
A janitorial service with flat-rate pricing is beneficial if you allotted a budget for cleaning expenses. Companies that offer various cleaning services at a flat-rate charge are also great for as-needed services.
These charges often get calculated after a site visit and walkthrough. By doing that, cleaning experts can give an accurate quote for their work.
A 10000 square-foot office space has a $200 average cleaning cost. This charge can go higher depending on the cleaning needed. Deep cleaning services can cost more if you plan on getting your space cleaned out once or twice a week.
Hourly Rate to Clean 10000 Sq Foot Office
The cost to clean a 10,000 square foot office ranges from $70-$136, depending on your needs. If you want someone visiting beforehand and determining how many hours it would take for them just visit our location before scheduling any cleaning services at all; we typically recommend 2 hrs unless otherwise specified in which case 1/2 day's worth (or more) work better.
When pricing a rate per hour, companies consider factors like the time of day. People working on the third shift and the weekends will get a higher rate. Having people present while they clean the office can also affect their charge.
Per Square Foot
The third method experts use for calculating the cost to clean offices is per square foot. The bigger space that needs cleaning, the higher your quote would be. But on average, per square foot costs $0.11.
Other Cost Considerations
Rates get calculated using the three options. But prices can still vary due to other considerations.
Some of these examples are windows, bathrooms, and kitchens. These spaces take more time to clean than hallways and offices.
When your office has more windows than usual, you can get a significant increase in your payment.
Things Cleaning Experts Consider When Pricing
Most cleaning services follow a set of guidelines when pricing their services. Here are some more factors to take into account when hiring a cleaning service. The duration of their services and the size of office space will be important, but there's also what they charge per hour for those who need it done quickly or would like an extensive clean-up campaign with deep scrubbing sessions:
Location And Cost Of Living
Each state and city can affect the rates cleaning companies charge their clients. Costs of living are another consideration. Busy cities like New York can have more expensive cleaning services.
Not to mention, bigger cities have a more competitive cleaning industry. You have many options, and it's easier to negotiate rates.
Using Your Cleaning Supplies
Clients who decide to shoulder the cleaning supplies for every cleaning can save more money. Most of the time, cleaning companies that bring their supplies will charge more. Remember to stock the following cleaning supplies for daily cleaning and service use.
Cleaning towels
Glass cleaner
Wood polish
Bleach
Cleaning solutions
Soft scrub
Cleaning polish or powder
Air freshener
Buying them in bulk is more affordable, and having them in stock will help keep the office clean. It will also increase workers' awareness of the importance of cleaning to productivity. Not to mention, it will help them always practice office cleanliness.
What You Need To Consider When Hiring A Cleaning Company
It is important to find a company with good reputation and communication skills because they will help you communicate any concerns or problems. When hiring someone, make sure that their work has been bonded before giving the contract papers; also be aware of what kind(s)of cleaning services each individual provides (i e: general vs specialty).
One thing you can also do to keep your cleaning budget consistent is to get the same cleaning company. By doing this, your expenses for their services will be in the same range.
In choosing the cleaning experts to tidy up your office, you should consider the following.
Level of cleanliness
Office space size
Location
Offered services
Cleaning service frequency
Negotiation is key when it comes to office cleanliness. Make sure you are firm and negotiate for the best price, but also provide them with an outline of what their service needs so they can offer quality work within your budget.
You should always know the price of your cleaning before getting them done because some companies charge a 'first-time' fee and others might ask for supplies.
Review the breakdown of costs before you sign for their services. By doing this, you can avoid paying for unnecessary services. You can also ask for clarification for any unclear breakdown.
Understanding How Much It Cost To Clean Offices
You can expect to pay between $0.07 to $0.16 per square foot for an office building of 10,000 square feet or less.
In order to keep your office space clean and productive, hiring professionals is essential. The cost of maintaining an entire 10,000 square foot building can be quite expensive.
Nonetheless, you can still manage by knowing how cleaning experts price their services. Hire a janitorial service for your space by contacting us now.