How Much Does It Cost to Clean a 1000 Square-Foot Office?
Use this helpful tool to calculate how much it costs to clean a 1000 square-foot office.
The average American will spend more than 90,000 hours in the workplace during their life. Considering that you spend a substantial amount of time at the office, it makes sense to keep that space clean and orderly.
Having a cluttered or messy office can have a negative impact on your employees' mental health. Moreover, it can decrease productivity and lower employee morale.
1000 Sq Ft Office Cleaning Cost
| | |
| --- | --- |
| National Average Cost | $130 |
| High Cost | $275+ |
| Low Cost | $125 |
Keep in mind the negative impression it gives to customers when your office is dirty and disorderly.
For all these reasons and more, it makes sense to have regular cleanings scheduled for your office. How much does it cost to clean a 1000 square foot office space, though? Let's dive in and take a look at everything you need to know.
How Much Does It Cost to Clean a 1000 Square Foot Office?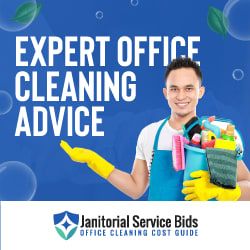 Commercial spaces can come in all shapes and sizes. However, if you have a 1000 square foot office, your commercial space is on the smaller end of the spectrum. Typically, the cost per square foot will be higher for smaller office spaces than for larger commercial spaces.
Commercial Cleaning Rates Per Square Foot
For a smaller office, you can expect to pay between $0.07 and $0.15 per square foot. This means that the cost of cleaning a 1000 square foot office is between $70 and $150. For offices that are larger than 12,000 square feet, you can expect to pay lower rates per square foot.
Commercial Cleaning Rates By Hour
Depending on the professional office cleaners you're hiring, they might charge by the hour rather than by square foot. However, for larger commercial spaces, the rate is almost always by square foot rather than by the hour.
By some estimates, on average, hourly rates for cleaning an office can range from $20 to $80 per hour. It's worth noting that the rates on the lower end of this range might be charged per cleaner on the job while the higher hourly rates might be for a full team.
Calculate the Cost by Cleaning Type
| | |
| --- | --- |
| Service | Cleaning Cost |
| Tile & Concrete Scrubbing | $0.12–$0.26 per sq. ft |
| Floor Vacuuming | $0.07–$0.18 per sq. ft |
| Bathroom Cleaning | $0.50–$2.06 per sq. ft |
| Carpet Shampooing & Extraction | $0.08–$0.20 per sq. ft |
| Window Cleaning | $4.00–$8.10 per window |
Another set of data incorporates the cost of an entire team per hour for a 1,000 square foot office. By these estimates, cleaning an office space that is 1,000 square feet or fewer costs between $200 and $400 an hour.
You might consider hiring a commercial cleaning service on a contract basis rather than hiring them on a one-off basis. This way, you can lock in lower rates in exchange for offering them a regular cleaning gig. This is one of the most common methods for office managers and owners to use, as they typically require cleaning at consistent intervals.
Commercial Cleaning Contract Rates
If you are hiring office cleaners on a contract basis, the rates can vary depending on how often you are having them clean as well as the size of the space. In general, though, it's cheaper to hire cleaners on a contract basis than it is to hire them for a one-time cleaning.
The use of the facility can also influence the contract rates. For example, a building that only contains offices will likely need less cleaning than an office that is connected to a manufacturing plant. The former would therefore likely have a cheaper contract than the latter.
What's Included in 1,000 Sq. Ft. Office Cleaning Prices?
Different professional office cleaners will offer different bundles of services. In general, though, a number of services are typically included in the quoted price. These include:
Cleaning public areas
Cleaning bathrooms
Dusting
Cleaning floors
Trash
Most cleaning services will also offer additional cleaning services that you can tack on to the basic packages. This might include cleaning appliances, cleaning tile floors with a machine, stripping and waxing, and buffing.
There are some other cleaning services that you will have to look to an outside team for. For example, washing high-rise windows or pressure washing will likely require hiring a separate company.
Factors That Can Influence the Cost of Commercial Cleaning Services
Unlike house cleaning services, office cleaning has a lot more involved. Like most services, the cost of hiring a commercial cleaner can be impacted by your location. Additionally, though, the number of bathrooms and the number of windows in the office can have an influence on the price as well.
In general, bathrooms and windows take longer to disinfect and clean than other spaces like offices, waiting rooms, and hallways. This means that the professional cleaning service will likely give you a higher quote if you have a higher than average number of bathrooms or windows.
It's a good idea to be as specific as possible when you are seeking a quote from a cleaning service. You can let them know what you do want to be cleaned and information about how often you'd like the floor mopped, for example.
Are You Looking for the Best Rates for Commercial Cleaning Services?
Now that you have a sense of how much it costs to clean a 1000 square foot office, it's time to start looking for your preferred cleaning service.
One of the best ways to get a good deal on high-quality office cleaning services is to shop around for quotes from different companies. However, this can be a time-consuming and frustrating endeavor. Plus, you likely have far more important things to do with your time.
That's where we come in. At Janitorial Service Bids, we compare quotes from local cleaning companies so you don't have to. If it's time for you to get the best rate on commercial cleaning services, be sure to check out our site today!