How Much Does It Cost to Clean a 4000 Square-Foot Office?
Use this free tool to calculate how much it cost to clean a 4000 square-foot office.
Workplace cleanliness is very important, and it's always wise to make sure it's within your budget. This is the cost to clean a 4000 square-foot office.
Office clutter is one of the leading causes of stress and anxiety in employees. More than that, the lack of office cleanliness lowers work productivity. Because of these negative impacts, hiring cleaning services for your office is essential.
4000 Sq Ft Office Cleaning Cost
| | |
| --- | --- |
| National Average Cost | $340 |
| High Cost | $1,280+ |
| Low Cost | $210 |
Naturally, the price is also driven by the specific types of cleaning you require at the office.
The Costs Of Commercial Office Cleaning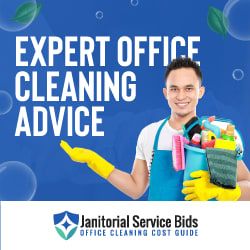 Be it cleaning a medical office or a small business, when cleaning 4000 square foot offices, space is a crucial factor in cleaning costs. Often, cleaning experts calculate their rates per square footage. Apart from that, other considerations add to the cleaning rates.
Some of these factors are the following.
Frequency
Type of cleaning
Cleaning supplies
On average, a cleaning service charges from $50 to $95 per hour to each staff for a standard office space. This charge included costs like gas and car mileage and cleaning supplies. It also covers insurance like company liability and workers' compensation.
The national average also acts as the starting rate cleaning experts offer you. There are three cleaning rate options you can choose for your office space:
Flat Rates
Hourly Rates
Per Square Foot
One-time cleaning rates can vary depending on different factors. Some of these factors consider the hours and services.
Let's look at some of the individual cleaning services available and what you can expect to pay for each.
Calculate the Cost by Cleaning Type
| | |
| --- | --- |
| Service | Cleaning Cost |
| Tile & Concrete Scrubbing | $0.12–$0.25 per sq. ft |
| Floor Vacuuming | $0.07–$0.17 per sq. ft |
| Bathroom Cleaning | $0.50–$2.00 per sq. ft |
| Carpet Shampooing & Extraction | $0.09–$0.19 per sq. ft |
| Window Cleaning | $4.00–$8.00 per window |
Flat Rate Office Cleaning
A good way to keep your commercial space clean is by hiring a reliable and economical janitorial service with flat-rate pricing. This type of company will provide you with all the services in one convenient package, so there's no need for individual bills or invoices at time intervals throughout each month.
These charges often get calculated after a site visit and walkthrough. By doing that, cleaning experts can give an accurate quote for their work.
A 4000 square-feet office space has a $340 average cleaning cost. This charge can go higher depending on the cleaning needed. Deep cleaning services can cost more if you plan on getting your space cleaned out once or twice a week.
Hourly Rate to Clean 4000 Sq Foot Office
The hourly rate to clean a 4000 square-foot office will generally range between $75-$150. Other companies prefer charging for their commercial cleaning services per hour. Cleaning supervisors would first visit you beforehand. They will determine how many hours the cleaning it would take.
When choosing a cleaning company, be sure to consider the time of day. People working on weekends and evenings will have higher rates than those who clean during standard hours. You can also affect your bill by having people present while they are doing work in-house; this could lead to you being charged more for their services.
Per Square Foot
The third method experts use for calculating the cost to clean offices is per square foot. The bigger space that needs cleaning, the higher your quote would be. But on average, per square foot costs $0.11.
Other Cost Considerations
Rates get calculated using the three options. But prices can still vary due to other considerations.
Some of these examples are windows, bathrooms, and kitchens. These spaces take more time to clean than hallways and offices.
When your office has more windows than usual, you can get a significant increase in your payment.
Things Cleaning Experts Consider When Pricing
Cleaning services are priced based on the duration and size of your space, but there are more than just those two factors. Here is how they consider cleaning experts' prices:
Location And Cost Of Living
Each state and city can affect the rates cleaning companies charge their clients. Costs of living are another consideration. Busy cities like New York can have more expensive cleaning services.
Not to mention, bigger cities have a more competitive cleaning industry. You have many options, and it's easier to negotiate rates.
Using Your Cleaning Supplies
Clients who decide to shoulder the cleaning supplies for every cleaning can save more money. Most of the time, cleaning companies that bring their supplies will charge more. Remember to stock the following cleaning supplies for daily cleaning and service use.
Cleaning towels
Glass cleaner
Wood polish
Bleach
Cleaning solutions
Soft scrub
Cleaning polish or powder
Air freshener
Buying them in bulk is more affordable, and having them in stock will help keep the office clean. It will also increase workers' awareness of the importance of cleaning to productivity. Not to mention, it will help them always practice office cleanliness.
What You Need To Consider When Hiring A Cleaning Company
Janitorial services are an important part of any company. However, you cannot just hire anyone and expect them to be able clean your office for the right price. You need a professional that will give proper care in order not only to meet but exceed customer expectations.
You can cut your cleaning budget in half by getting the same company for years. This will allow you to spend more time relaxing and less work on scrubbing.
In choosing the cleaning experts to tidy up your office, you should consider the following.
Level of cleanliness
Office space size
Location
Offered services
Cleaning service frequency
You can save some money by negotiating the price. If you have a specific need, then be sure to mention it in order for them to provide quality service that is tailored specifically to your office's needs.
The cost of cleaning services should be straightforward and clear, with no hidden fees. However some companies charge you for 'first-time' cleans or require that supplies are provided by the customer themselves – this is not what consumers expect.
Review the breakdown of costs before you sign for their services. By doing this, you can avoid paying for unnecessary services. You can also ask for clarification for any unclear breakdown.
Understanding How Much It Cost To Clean Offices
You can expect to pay between $0.09 to $0.19 per square foot for an office building of 4,000 square feet or less.
Keeping your office space clean will help with your sales and productivity. When maintaining office cleanliness, hiring professionals to help you is essential. The cost to clean a 4000 square-foot office space can be expensive.
Nonetheless, you can still manage by knowing how cleaning experts price their services. Hire a janitorial service for your space by contacting us now.