How Much Does Office Cleaning Services Cost?
Discover how Janitorial Service Bids can help you take care of your offices. Get in touch today and request a quote!
In general, office cleaning services will cost between $188-$346, or $0.08-$0.19 per square foot, with the actual cost being determined by services required as follows:
$0.08 and $0.13 per square foot for regular cleaning
$0.16 and $0.31 per square foot for deep cleaning
Get Connected
Finding the right professionals to clean your office requires knowing what fits your budget. This guide from Janitorial Service Bids explains how much office cleaning services cost, such as:
Office cleaning cost per square foot
Office cleaning rates per day, week, month
Office cleaning costs by popular brands
The workplace desk is home to more than 10 million bacteria. That's 400 times more than found on the average toilet seat. A dirty workplace can harm employee morale. It can also lead to the spread of multiple germs and more sick days.

Office Cleaning Price Table
| | |
| --- | --- |
| Office Size – Square Feet | Cleaning Cost Range |
| 0–1,500 sq. ft | $225–$400 |
| 1,501–3,000 sq. ft | $190–$490 |
| 3,001–6,000 sq. ft | $455–$700 |
| 6,001–10,000 sq. ft | $510–$875 |
| 10,001–40,000 sq. ft | $800–$1,500 |
CLEAN OFFICE AND FEWER SICK DAYS
Office cleaning services can ensure that your office building is cleaner and smells fresher. With fewer sick days, you will notice a boost in employee morale. This will lead to an increase in productivity.
The cost of commercial office cleaning services depends on the type of cleaning you need. It also depends on the size of the office space and your geographic location.
The national average for commercial cleaning services is $0.11 per square foot. However, the range can vary from as low as $0.07 to as high as $0.16 per square foot.
Are you wondering how much office cleaning services cost?
What Types of Services Does Office Cleaning Include?
Commercial cleaning companies offer various services depending on your business's needs. The services you choose can affect the cost.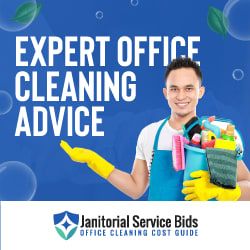 Let's look at some of the individual cleaning services available and what you can expect to pay for each.
Bathroom Cleaning
A commercial cleaning service can take care of the bathrooms on your office floor. A thorough cleaning ensures your bathrooms create an excellent impression for your business.
Bathroom cleaning costs can range anywhere from $250 to $1000 per month.
However, this depends on how many restrooms you have, their size, and the condition and frequency of cleaning. Hourly rates average between $50 to $70 per hour.
Window Cleaning
Dirty windows can impact the success of your business. Dirt and smudges on office windows create an unappealing first impression. It can also reduce energy efficiency.
Commercial window cleaning can reduce allergens, extend your windows' lifespan, and improve views.
Window cleaning costs can range anywhere from $4 to $6 per window pane. Some cleaning companies may charge by the hour for high-rise jobs.
If this is the case, you can expect to pay an average of $46 per hour. However, prices range from $35 to $59 per hour.
Carpet Cleaning
Professional carpet cleaning is the only way to clean the carpet from allergens, dirt, and bacteria. Carpet cleaning services may include:
Steam cleaning
Upholstery cleaning
Grout cleaning
Allergens removal
Dry cleaning
Rug cleaning
The cost of commercial or office carpet cleaning costs ranges between $0.10 and $0.20 per square foot. This comes to around $5,000 to $7,000 in total, depending on the size of the office space.
Carpet stain and spot cleaning will cost you anywhere from $20 to $35 per hour.
Breakroom Cleaning
Public areas such as breakrooms or kitchens generally take longer to clean and disinfect.
A smaller office (1,000 square feet) with a few employees may only need a basic cleaning service once or twice a week. This can range from $100 to $150 per month. Or around $33 per hour.
A typical small business (10,000 square feet) with a few offices and a breakroom may cost around $215 to $295 a month. Or approximately $33 per hour.
Larger office spaces (20,000 square feet) that require frequent cleaning may cost around $410 to $510 per month. Or approximately $33 per hour.
Trash Removal
Business janitorial services can provide trash emptying services weekly or even monthly.
Emptying the trash and light cleaning (vacuuming and dusting) in a small office costs between $15 to $25 per visit. An office with a few employees may only need this basic service once or twice per month. This will cost about $150 to $250 per month.
Meanwhile, daily trash pickup and light cleaning are about $450 to $650 per month.
Desk Cleaning
Desk cleaning and disinfecting are generally factored into the regular cleaning service cost. A typical office cleaning service will include:
Trash removal
Clean and disinfect floors, kitchens, and bathrooms
Wipe and disinfect desks and other surfaces, including windows
You can expect to pay between $0.06 to $0.15 per square foot for an office building of 12,000 are feet or less. Larger offices or warehouses will typically have lower rates per square foot.
How Much Does Office Cleaning Cost per Day?
Office cleaning companies generally do not charge per day. Instead, they charge per hour or square foot.
However, you can calculate the per-day cost by calculating the rate and multiplying that by how many hours it will take.
Cleaning companies will determine how long the task will take. This should be factored into the quote. More often not, this is a fixed quote.
The average time it takes one employee to clean between 3000 to 4000 square feet is around one hour. This is for general office cleaning, including vacuuming, mopping, bathrooms, kitchens, and carpet cleaning.
For example, a commercial cleaning costs $225 for a 6,000-square foot office. If it takes one cleaner one hour to clean 3,000 square feet, you can expect to pay $450 for two hours of work.
For larger business spaces, around 20,000 square feet, it may take up to twelve hours to finish the job. If the hourly rate was $65 per hour, you could expect to pay around $780.
Keep in mind these are only examples. Determining the per-day cost depends on several factors.
One-Time Commercial Cleaning Costs
Some businesses only require one-time cleaning. For a one-time commercial cleaning, you can expect to pay anywhere between $115 to $465.
0–1000 square feet: $115
1000–2000 square feet: $148
3000–4000 square feet: $205
5000–6000 square feet: $230
7000-8000 square feet: $405
9000–10000 square feet: $465
Prices vary depending on the services needed, how many employees are required, and how dirty the space is.
How Much Do Office Cleaning Services Cost per Week?
Commercial contract rates vary based on the size of the space and the frequency of the cleaning service. If you schedule regular commercial cleaning services, it will be less expensive than a one-time visit.
Cleaning companies often price their rates as follows:
One or two cleanings per week at an hourly rate
Three or more cleanings a week per square foot
Per job
An office with just a few employees may only need a basic cleaning service once or twice a week. You can expect to pay between $35 to $45 per week for this service. Keep in mind that these figures may be slightly more or less depending on your situation.
The cost of a basic cleaning service for a larger business might run between $165 to $175 or more a week. This service may also include daily trash pickup and vacuuming.
How Much Are Office Cleaning Rates per Hour?
Cleaning rates vary between $25 to $85 per hour per worker. Lower rates might be per person, while higher rates might be for a team of cleaning professionals. On average, rates run from $35 to $55 per hour.
Commercial cleaning companies who charge per hour may offer a competitive cost estimate based on the amount of time it will take to clean office space.*
Depending on the size of your business, you can pay as low as $100 or as high as $450.
However, there are other factors cleaning companies consider. They include:
The time it takes to clean the office
How dirty the office is
How many employees are required
What equipment or cleaning supplies are needed
How many services are required
For additional services, your business should expect to pay more. These include:
High-rise window cleaning
Waste removal
Pressure or power washing
High-rise window cleaning costs on average $165 per hour. Waste removal costs typically range between $132 to $367. At the same time, pressure or power washing costs are charged per square foot at around $0.13 to $0.70.
*Larger business spaces are generally charged per square foot rather than per hour.
Medical Office Cleaning Rates per Hour
On average, medical office cleaning services charge an hourly rate between $26 to $75. However, it's essential to realize that rates can vary depending on the size of your medical facility, its location, and the level of cleaning required.
Additional services like floor to ceiling cleaning and other add on's, such as dusting, sweeping, vacuuming, and mopping will increase the total cost.
However, it's worth remembering that paying extra for skilled medical facility cleaners is vital in reducing the spread of illness and infection. It will also boost staff productivity and enhance the comfort of your patients.
How Much Does Office Cleaning Cost per Square Foot?
The national average for commercial cleaning services is $0.11 per square foot. This range can vary from as low as $0.07 to as high as $0.16 per square foot. Larger spaces, such as warehouses, will typically pay between $0.04 and $0.15 per square foot.
Average Cost Per Square Foot to Clean Office Building
You can expect to pay between $0.08 to $0.17 per square foot for an office building of 12,000 square feet or less.
As a rule, the larger the office space, the lower the per-square-foot cleaning rate.
This cost includes most commercial services, including:
Bathrooms
Public areas like breakrooms and kitchens
Floors (sweeping, mopping, and vacuuming)
Dusting
Trash removal
Additional cleaning tasks are priced as an extra service:
Appliances: $11–$28 per appliance
Stripping, waxing floors: $0.28–$0.48 per square foot
Tile floors (with a machine): $0.11–$0.22 per square foot
Buffing floors: $0.03–$0.11 per square foot
Keep in mind some cleaning companies do not offer additional cleaning services. As you do your research, be sure to check that the company can deliver what you need.
How Do Office Cleaning Companies Bill for Services?
Most commercial office cleaning companies will bill you weekly or monthly. Cleaning companies vary in their approaches to billing. Some charge on a flat or hourly rate, while others charge per square foot.
Either way, you should be provided with a written quote for services. This should include the specific tasks that will be performed and whether materials will be included or invoiced separately.
Because it is an official document, it should be completed with the utmost detail and be delivered to you on time.
If you have organized a one-off office clean, the cleaning company will bill you shortly after the job is finished.
After you have received the bill, you will have a specified timeframe to deliver the payment.
Who Are the Best Office Cleaning Companies?
Choosing a commercial cleaning company for your office can be a difficult decision to make. The cleanliness of your space can make a significant impact on your employees and your customers/clients/patients.
With so many cleaning companies to choose from, it can seem overwhelming. Here are six tips to help you make your decision.
Check out past online reviews
Look for an established, experienced company
Determine your budget
Find out what services the company will provide
Make sure they have insurance
Undertake background checks
Compare quotes
This way, you can avoid paying a higher cost or being influenced by another company believing they offered a competitive price. When in reality, their quote didn't provide you with all the services upfront.
Sometimes the cheapest rate may not be the best option, and the right company might not always be the most affordable option.
Your Guide to Office Cleaning Services
A clean work environment has a significant impact on the health of employees and the amount of productivity the business achieves.
Office cleaning services can help ensure your business looks and feels its best all year round.
Many factors can affect the costs involved with hiring office cleaning services. Cost generally depends on the size of the building, the services required, and how often the cleaning is needed. It also depends on the location of your business and how many cleaners are needed for the job.
Ready to find professional office cleaning services for your office?
Janitorial Service Bids connects with janitorial and cleaning services to help businesses get quotes to compare and save money.
Start comparing quotes today.

LEARN MORE:
1000 Sq Ft Office Cleaning Cost
2000 Sq Ft Office Cleaning Cost
3000 Sq Ft Office Cleaning Cost
4000 Sq Ft Office Cleaning Cost
5000 Sq Ft Office Cleaning Cost
10,000 Sq Ft Office Cleaning Cost