How Much Does Building Cleaning Services Cost?
Discover how Janitorial Service Bids can help you take care of your building. Get in touch today and request a quote!
In general, building cleaning services will cost between $200-$390, or $0.09-$0.20 per square foot, with the actual cost being determined by the services required.
$0.08 and $0.14 per square foot for regular cleaning
$0.16 and $0.29 per square foot for deep cleaning
Get Connected
If you're looking for a building cleaning service that offers great value and exceptional customer care, then it's important to find professionals who will work with your budget. You won't regret hiring them. This guide from Janitorial Service Bids explains how much office cleaning services cost, such as:
Building cleaning cost per square foot
Building cleaning rates per day, week, month
More than 10 million bacteria can be found on a workplace desk. That's 400 times more than the average bathroom. A dirty environment at work is not only unsanitary but it also hurts employee morale and leads to lots of sick days as well."

Building Cleaning Price Table
| | |
| --- | --- |
| Office Size – Square Feet | Cleaning Cost Low-High |
| 0–1,500 sq. ft | $225–$410 |
| 1,501–3,000 sq. ft | $196–$492 |
| 3,001–6,000 sq. ft | $465–$725 |
| 6,001–10,000 sq. ft | $500–$844 |
| 10,001–40,000 sq. ft | $800–$2,100 |
BEST BUILDING CLEANING SERVICE
We are a company that gets you an exceptional price point for building services. We offer office, sanitizing, and disinfecting as well white-glove deep cleanings among many other things that set us apart from other companies in this industry. We can even help you get data center maintenance to keep your building cleaned up so you don't have any worries about its condition when it comes time to take care of business again or host an event there.
Building Cleaning is Affordable
Building cleaning companies offer various services depending on your business's needs. The services you choose can affect the cost.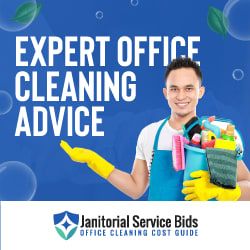 The service that you need for your office building is right here. Trust the professionals at Janitorial Service Bids who provide affordable quotes for high-quality commercial cleaning services and have over 50 years of combined experience.
Individuals in the communities we serve deserve to work and play without being exposed, targeted, or infected by COVID-19. That is why our partners deploy the best disinfectants and procedures across America which addresses the cleaning needs of businesses across US, especially for those requiring Covid-19 cleanup.
We understand how important your building space may be for business continuity so when you need professional janitorial services contact us today for the best value money can buy.
Cleaner Buildings, Safer Environments
Your commercial building is one of the most important aspects of your business. Without a clean and safe environment for employees, you will not be able to survive in today's competitive marketplace. That's why our partners work hard at providing deep cleaning services that can't wait to see before someone else does. Empl0yees are trained specifically on how to get rid of all surfaces including office building drapes/ blinds as well fabric seats or wood furniture so nothing interferes with their productivity – even if they've been asked many times already by other companies who didn't do such an excellent job previously.
How Much Does Building Cleaning Cost per Day?
Some businesses only require one-time cleaning. For a one-time building cleaning services, you can expect to pay anywhere between $115 to $465.
0–1000 square feet: $116
1000–2000 square feet: $152
3000–4000 square feet: $213
5000–6000 square feet: $225
7000-8000 square feet: $400
9000–10000 square feet: $450
Prices vary depending on the services needed, how many employees are required, and how dirty the space is.
We've got you covered. Anyone can call themselves a professional office cleaner, but they might lack the know-how and skill it takes to be one in this day and age. That is why our team offers solutions for high-quality building cleaning services at affordable rates for all types of businesses small or large.
Cleaning a building is an essential part of maintaining employee health and safety. We offer options for green cleaning services that will not only protect the environment but also your employees from harmful substances like chemicals or viruses. Get your free quote today and see how much you can save.