How Much Does Commercial Office Cleaning Services Cost?
Discover how Janitorial Service Bids can help you take care of your offices. Get in touch today and request a quote!
In general, commercial office cleaning services will cost between $185-$357, or $0.08-$0.20 per square foot, with the actual cost being determined by the services required.
$0.08 and $0.14 per square foot for regular cleaning
$0.16 and $0.29 per square foot for deep cleaning
Get Connected
Cleaning a commercial office can be a daunting task. You need to find professionals that are willing and able to work with your budget, but also offer great service for the cost you're comfortable paying them! This guide from Janitorial Service Bids explains how much office cleaning services cost, such as:
Office cleaning cost per square foot
Office cleaning rates per day, week, month
Office cleaning costs by popular brands
More than 10 million bacteria can be found on a workplace desk. That's 400 times more than the average bathroom. A dirty environment at work is not only unsanitary but it also hurts employee morale and leads to lots of sick days as well."

Commercial Office Cleaning Price Table
| | |
| --- | --- |
| Office Size – Square Feet | Cleaning Cost Low-High |
| 0–1,500 sq. ft | $224–$400 |
| 1,501–3,000 sq. ft | $192–$490 |
| 3,001–6,000 sq. ft | $460–$707 |
| 6,001–10,000 sq. ft | $511–$866 |
| 10,001–40,000 sq. ft | $805–$1,600 |
CLEAN OFFICE AND FEWER SICK DAYS
With commercial office cleaning services, you can be sure that your building is cleaner and smells fresher. Less sick days mean more productivity for the employees who work there.
What Types of Services Does Commercial Office Cleaning Include?
Commercial cleaning companies offer various services depending on your business's needs. The services you choose can affect the cost.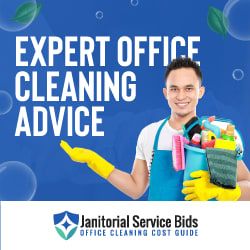 Let's look at some of the individual cleaning services available and what you can expect to pay for each.
Bathroom Cleaning
When you need professional help with your bathrooms, consider contacting a commercial cleaning service. A thorough wash will set the stage for an excellent impression of your business and ensure that clients feel comfortable when they come in contact with them.
Bathroom cleaning costs can range anywhere from $250 to $1000 per month.
How much does it cost to hire an hourly cleaner? You can expect between $50 and 70 per hour depending on the size of your building, the number of restrooms in question as well whether they're frequently cleaned or not.
Window Cleaning
Commercial window cleaning can reduce allergens, extend your windows' lifespan and improve views. We offer a variety of services that will make you look good from the outside in addition to making sure dirt isn't getting into those cracks!
Window cleaning costs can range anywhere from $4 to $6 per window pane. Some cleaning companies may charge by the hour for high-rise jobs.
If this is the case, you can expect to pay an average of $46 per hour. However, prices range from $35 to $59 per hour.
Carpet Cleaning
The only way to clean your carpets is with professional carpet cleaning. Professional cleaners are trained in the best methods for removing all sorts of stains, dirt, and allergens from fabric surfaces so you can have healthier living spaces that won't make people sick again. Carpet cleaning services may include:
Steam cleaning
Upholstery cleaning
Grout cleaning
Allergens removal
Dry cleaning
Rug cleaning
The cost of commercial or office carpet cleaning costs ranges between $0.10 and $0.20 per square foot. This comes to around $5,000 to $7,000 in total, depending on the size of the office space.
Carpet stain and spot cleaning will cost you anywhere from $20 to $35 per hour.
Breakroom Cleaning
The importance of cleaning and disinfecting public areas, such as breakrooms or kitchens cannot be overstated. These spaces are often the first point of contact for employees who enter an organization's facility each day; therefore it is crucial that they maintain a clean environment which can only happen if these areas have been properly sanitized with chemicals like bleach wipes before being used again by another unsuspecting soul.
A smaller office (1,000 square feet) with a few employees may only need a basic cleaning service once or twice a week. This can range from $100 to $150 per month. Or around $33 per hour.
A typical small business (10,000 square feet) with a few offices and a breakroom may cost around $215 to $295 a month. Or approximately $33 per hour.
Larger office spaces (20,000 square feet) that require frequent cleaning may cost around $410 to $510 per month. Or approximately $33 per hour.
Trash Removal
Business janitorial services can provide trash emptying services weekly or even monthly.
Emptying the trash and light cleaning (vacuuming and dusting) in a small office costs between $15 to $25 per visit. An office with a few employees may only need this basic service once or twice per month. This will cost about $150 to $250 per month.
Meanwhile, daily trash pickup and light cleaning are about $450 to $650 per month.
Desk Cleaning
Desk cleaning and disinfecting are generally factored into the regular cleaning service cost. A typical office cleaning service will include:
Trash removal
Clean and disinfect floors, kitchens, and bathrooms
Wipe and disinfect desks and other surfaces, including windows
You can expect to pay between $0.06 to $0.15 per square foot for an office building of 12,000 are feet or less. Larger offices or warehouses will typically have lower rates per square foot.
How Much Does Commercial Office Cleaning Cost per Day?
Office cleaning companies generally don't charge per day, but instead, they charge by the hour or square foot. You can calculate your cost using this formula: rate x hours/floor(length of time).
The average time it takes one employee to clean between 2500 to 6000 square feet is around one to two hours. This is for general office cleaning, including vacuuming, mopping, bathrooms, kitchens, and carpet cleaning.
For example, a commercial cleaning costs $225 for a 6,000-square foot office. If it takes one cleaner one hour to clean 3,000 square feet, you can expect to pay $450 for two hours of work.
One-Time Commercial Office Cleaning Costs
Some businesses only require one-time cleaning. For a one-time commercial cleaning, you can expect to pay anywhere between $115 to $465.
0–1000 square feet: $115
1000–2000 square feet: $150
3000–4000 square feet: $210
5000–6000 square feet: $230
7000-8000 square feet: $405
9000–10000 square feet: $465
Prices vary depending on the services needed, how many employees are required, and how dirty the space is.