What Do Janitorial Services Cost? Everything You Need To Know
Janitorial services are important for several reasons. People will judge you for having a messy space, but that's not the only downside of having one.
Experts have proven that messy spaces can leave people with poorer memory, focus, and generosity. It can also make people experience a large amount of stress, which can lead to the development of depression and anxiety.
In addition, a messy space can affect people's physical health as well. The dust and other particles that sit in a messy space can affect the allergy-prone. This can make them sick and more likely to call out of work and/or be less productive.
There's also the possibility of injury. People can slip on messy surfaces or trip when something is in their way. This can lead to lost productivity time and medical expenses.
Overall, it's best to keep your space clean. Janitorial services can help you maintain this. However, you may still be hesitant to hire them due to the cost.
COMPARE QUOTES
If so, read on to learn the different factors behind the cost of janitorial services. You'll be more prepared for the costs and have a better idea of if you can afford them or not.
How Different Situations Affect the Cost of Janitorial Services
As a whole, the total cost of janitorial services can vary between $100 to $2,000 per month. The factors behind this wide range of costs include the size of the building, the exact type of services requested, and a few others. Read on to learn more about these services and the costs behind them.
The Size of the Space per Square Foot
Residential or commercial janitorial services will often have a set price per square footage of your space. Though this price can cost more or less than a dime at times, the prices can still quickly add up. You can see an example of the costs of a janitorial company that charges $0.05 per square foot below.
0 to 1000 sq ft = 0 to $50
1001- 2000 sq ft = $50.05 to $100
2001- 3000 sq ft = $100.05 to $150
3001- 4000 sq ft = $150.05 to $200
4001- 5000 sq ft = $200.05 to $250
5001- 6000 sq ft = $300.05 to $350
And keep in mind that this is on the lower end of the typical price range. Janitorial cleaning services can charge as much as $0.15 sq ft. However, you can find yourself paying much less per square foot if you have a larger office than if you have a smaller office.
The Number of Hours Spent
Other companies will charge per the number of hours that their employees spend cleaning your place. You can expect an average range of around $52 to $113 per hour. Again, this can be higher or lower depending on the specific services that you need.
The advantage of this is that you won't feel short-changed if the job doesn't take too long. You can ask the company if they will charge you this way if you feel more comfortable with this price.
Still, don't expect them to completely cave into your demands. The quality of most janitorial services should be worth the prices charged.
The Type of Building and How It's Used
The type of commercial or residential space can also affect how much a residential or commercial janitorial space will charge you. An office building will probably take less time to clean than a restaurant space. This is due to the amount of dirt, debris, and other messes that these areas are likely to contain as well as health standards.
The number of people that go through a building can also affect how dirty or clean it is. Therefore, make sure that you consider how dirty your residential or commercial space gets regularly. Do what you can to factor that into the final price for janitorial services that you put in your budget.
The Density and Features of the Building
'Density' in this case refers to the number of rooms in the home or building. A building or home with a lot of wide open space is more likely to cost less than a space with a lot of individual rooms.
The price can also differ depending on the kind of rooms and certain features that a building has. The janitorial services in a building that has a lot of bathrooms and windows will cost more than one with only a few of them. This is mostly because bathrooms and windows require a lot of disinfecting and cleaning.
The Location and Competition Levels
If a residential or commercial janitorial service is the only option in the area, it may have a high price. If there are multiple services in a set area, each service is likely to lower its price to stay competitive with the other services. You may also be able to negotiate a lower price in this situation.
However, you also want to keep the cost of living in your area in mind as well. A company has to keep its employees well-provided for depending on how much they need to survive in an area. Otherwise, those employees may quit.
How the Variety of Services Affects the Cost of Janitorial Services
As mentioned, the specific services that you order from janitorial companies can raise or lower the overall price. Requesting janitors to simply empty the trash cans and wipe the counters will cost less than adding on a wide variety of services.
The best approach is to consider all the different services that your home or commercial building may need and then prioritize based on the amount that you have in your budget. For your convenience, here's a list of some different possible services.
Organizing
Mopping
Sweeping
Dusting
Vacuuming
Polishing (furniture and floors)
Steam cleaning (furniture and floors)
Restocking items (e.g. toilet paper)
Emptying the garbage
Watering plants
As for the pricing of these, it will differ from company to company. Therefore, it's best to adjust the specific janitorial services your company needs after you've decided on a company. You can then look at the prices of their services or ask their customer service and adjust what you need based on their pricing.
You can learn a bit more about the different kinds of pricing to expect from a residential or commercial janitorial service in the sections below.
The Basic Services
You might pay special prices for certain kinds of services that are separate from the price per hour or price per square foot. Other services may just get added on to these pricing methods. You can see some examples of pricing in the list below.
Stripping and Waxing = $0.30 to $0.50 per sq ft
Buffing and Burnishing = $0.04 to $0.12 per sq ft
Carpet Cleaning = $0.08 to $0.25 per sq ft
Carpet Stain and Spot Cleaning = $25 to $40 per hour
Window Cleaning = $2 to $5 per pane
Appliance Cleaning = $10 to $35 per appliance
As it seems, these pricing methods may get rather complicated. In these instances, you will probably need to organize all the charges yourself.
Still, some companies will charge a flat rate that includes a wide variety of services. Keep this in mind and make sure that your initial budget is flexible.
The Disinfecting Services
Ever since the outbreak of COVID-19, the cost of disinfecting services has changed. Regulations put in place by the CDC and EPA can affect how thorough a janitorial service needs to be when disinfecting a space. The more thorough the disinfecting service is, the more it can cost you.
However, keep in mind that this extra cost can be worth it. Thorough disinfection can keep everyone safe from catching diseases. This can increase medical costs and lower the productivity levels of everyone in the building.
You also shouldn't want to face the backlash of not following these regulations in your commercial building. For one thing, you may have to pay fines. For another, having poor disinfection practices
The Other Special Services
Beyond these usual services, you may have special requests that a company doesn't always offer. If you make these requests and the company agrees to them, you will likely end up paying an extra charge. This can be the case even if the company charges a flat rate for multiple services.
Here are some examples of services that may require you to pay special fees:
Work outside of normal business hours
Difficulty reaching a certain space
Moving furniture to clean underneath it
Emergency request
Consider also that you may want some services done occasionally and not with every visit. You may still get charged the same rate despite the absence of certain services. In other situations, a small fee may be added each time the janitor performs the special service.
How Some Possible Discounts Can Affect the Cost of Janitorial Services
Despite all these different prices for different features, the price may ultimately end up being lower than you think. In many circumstances, companies offer discounts on the cost of janitorial services.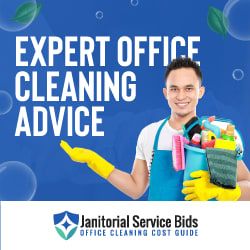 For example, they may charge you less based on the frequency or amount of time that you hire the company. In addition, you may be able to cover certain costs the janitorial service has and get charged less for the services overall.
You can learn more about these different possible discounts in the list below.
The Time and Frequency of Service
Companies love it when you hire them for longer amounts of time. This gives them a stronger guarantee of income and thus, more stability. Therefore, you will possibly pay less if you hire the same company for a year or so rather than just a few months.
The number of times during this period that you hire the service to clean your place can also affect this discount. You should pay less if you hire a company to clean your space several times a week than a few times a month.
Be sure to ask the janitorial service if they have any deals like this when you're looking through different quotes. You may also be able to negotiate these discounts.
The Cost of the Cleaning Supplies
You may get a discount if you pay for the cleaning supplies that a janitorial company needs. You can pay for the brand or type of cleaning supplies that the company already prefers or to provide your own choices. Having this option can be especially useful if your building and/or its residents have certain needs that the company's usual cleaning supplies can't provide for.
However, you may need to compromise with the type of cleaning supplies that you want to use. Some companies may prefer to use eco-friendly cleaning supplies and may not want to violate these ethics at your request.
Also, certain companies may prefer certain products based on safety concerns. Therefore, they may not want to have their employees interact with products that could harm their employees' health.
How the Process of Getting a Quote or Estimate Works
Once you've looked at a few possible companies, you should call each possible company up and ask each for a price quote or estimate. A quote is a fixed price that a company can offer you after it's assessed your situation and negotiated with you. This cannot change even if the services change.
On the other hand, an estimate can change based on what services are needed. Either pricing method can benefit the service or the client more depending on the circumstances.
If a quote is set and then a cleaning service ends up doing more work, the client will benefit. However, if the cleaning service does less work than the quote, the cleaning service will benefit.
All-in-all, an estimate can be the better option. In this situation, a cleaning service will request if you want extra work done before it's done. This prevents any surprises.
The Creation of an Estimate
You can explain your cleaning situation to a janitorial service over the phone. However, it's best to have a representative of a company come to your building and check all of the features. This will give you the most accurate price.
Let Us Help You Find Your Perfect Janitorial Service Cost
In summary, calculating the actual price that you may pay for janitorial services can get complicated. For this reason, it's best to keep an organized chart of all your needs and services. This can take some time, but it will be worth not spending more than your budget can handle.
However, if you're feeling lost, consider using our services. We can help you find the best possible pricing for your home or business through our guides, cost calculator, and more. Share your details with us to get a free home or office building price quote.
COMPARE QUOTES